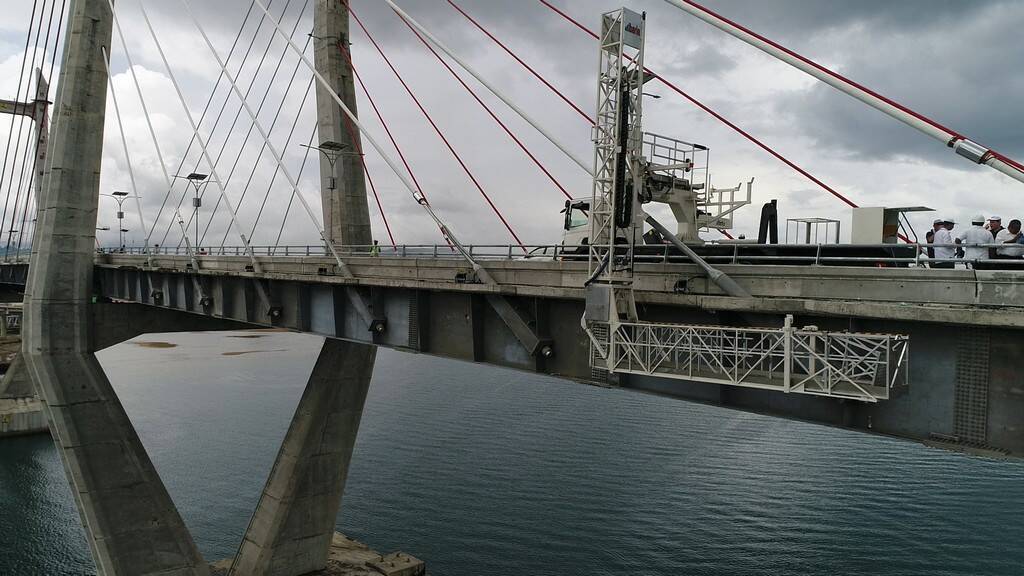 Special Underbridge Equipment to check Indonesian Bridges
A NEW BARIN EQUIPMENT, MODEL ABC 110/L, HAS BEEN USED FOR THE INSPECTION AND MAINTENANCE ON BRIDGES OF INDONESIA.
SUCH MACHINE HAS BEEN MANUFACTURED IN ITALY AND ASSEMBLED ON TO SCANIA P250 LB 4x2 MNB TRUCK CHASSIS.
THE STRUCTURE IS AN UNDERBRIDGE PLATFORM TYPE MACHINE AND HERE THERE ARE SOME OF THE MAIN FEATURES COMPOSING THE MACHINE:
MAX. UNDEBRIDGE WORKING DEPTH: 5,2 M

MAX. UNDERBRIDGE WORKING LENGTH: 11.0 M

WIDTH OF THE WORKING PLATFORM: 1.05 M

MAX. WIDTH OF THE EQUIPMENT ON ROAD: 2.5 M

OVERCOMING OF FOOTPATHS MAX. 2.0 M

OVERCOMING OF WIND/NOISE BARRIERS UP TO 2.25 M

PAYLOAD ON THE PRIME WORKING PLATFORM 500 KG.

PAYLOAD FOR THE EXTENDIBLE WORKING PLATFORM 250 KG.
THE EQUIPMENT HAS BEEN PUT INTO OPERATION AT THE BEGINNING OF MARCH 2017 ON CUSTOMER'S JOB SITE.
THE MACHINE HAS BEEN MANUFACTURED IN ORDER IT CAN LAUNCH BETWEEN THE CABLE STAYS OF MERAH PUTIH BRIDGE'S IN AMBON, MALUKU, INDONESIA.
MERAH PUTIH BRIDGE (INDONESIAN: JEMBATAN MERAH PUTIH) IS A CABLE STAYED BRIDGE LOCATED IN AMBON CITY, MALUKU, INDONESIA. THE BRIDGE SPANS OVER AMBON BAY IN AMBON ISLAND, CONNECTING RUMAH TIGA VILLAGE (POKA) IN SIRIMAU SUB-DISTRICT ON THE NORTH SIDE, WITH HATIVE KECIL/GALALA VILLAGE IN TELUK AMBON SUB-DISTRICT ON THE SOUTH SIDE. THIS BRIDGE IS THE LONGEST BRIDGE IN THE EASTERN REGION OF INDONESIA, IT IS THE LANDMARK OF THE CITY.
CONSTRUCTION BEGAN IN 17 JULY 2011. MERAH PUTIH BRIDGE COST THE STATE BUDGET (APBN) AROUND RP 779.2 BILLION (US 59.52 MILLION DOLLAR). THE BRIDGE WAS INAUGURATED BY INDONESIAN PRESIDENT JOKO WIDODO ON 4 APRIL 2016.
THE BRIDGE WAS MEANT TO CUT TRAVEL TIME BETWEEN PATTIMURA AIRPORT ON LEI HITU PENINSULA, CENTRAL MALUKU REGENCY IN THE NORTH, AND DOWNTOWN AMBON CITY ON LEI TIMUR PENINSULA IN THE SOUTH. PREVIOUSLY, BEFORE THE CONSTRUCTION AND COMPLETION OF MERAH PUTIH BRIDGE, DISTANCE OF PATTIMURA INTERNATIONAL AIRPORT TO AMBON CITY CENTER IS 35 KILOMETERS MUST BE TAKEN APPROXIMATELY FOR 60 MINUTES DRIVE AROUND THE BAY OF AMBON. THE ALTERNATIVE IS TO USE A FERRY BETWEEN THE RUMAH TIGA VILLAGE (POKA) AND GALELA TAKES ABOUT 20 MINUTES, NOT INCLUDING QUEUING TIME.
ENCLOSED PICTURE SHOWS THE ABOVE MENTIONED EQUIPMENT DURING DEMONSTRATION AT THE ABOVE MENTIONED BRIDGE.