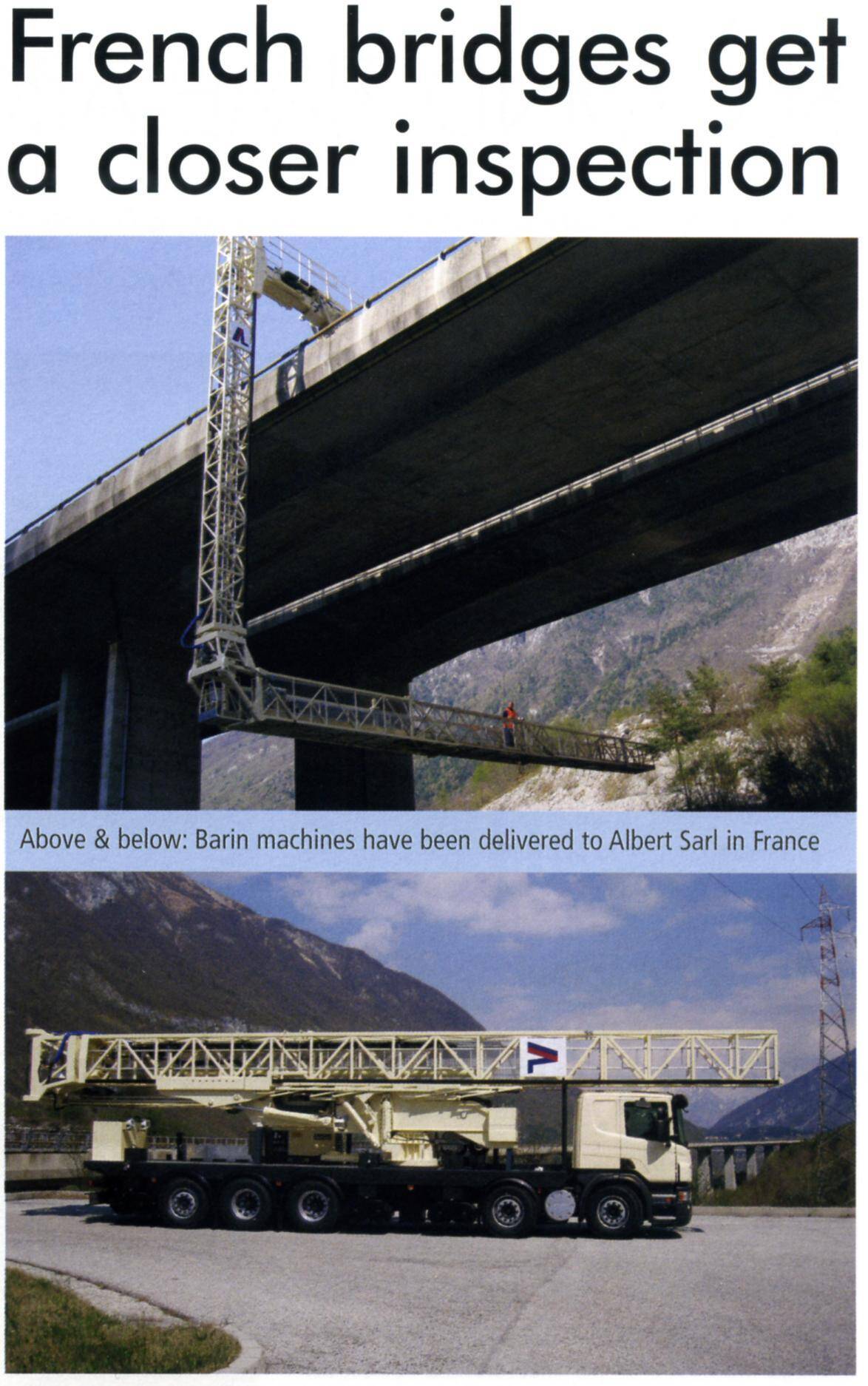 Underbridge inspection units delivered to Russia and Canada
Specialist manufacturer Barin has recently delivered new underbridge inspection units clients in Canada and Russia. The first is a new model ABC 190/L which was bought by Canadian private rental company Jenik Inc Construction & Location which is based in St Mathieu de Beloiel - and it is the first machine that Barin has delivered to Canada.
This particular model has special techical features that make it the most complete model available on the market. It was manufactured in Italy and assembled on to a five-axle freightliner 2007 M2-112 truck chassis which was delivered to Barin's premises in Italy by the customer, specifically for this purpose.
Jenik wanted to buy a platform-type machine in order to complete ita fleet of access equipment. In common with all of Barin's production range, the ABC 190/L can operate in a single road lane, either in its transport or working position, allowing traffic to continue to use the other lane. This means that even a two-lane bridge can be kept open during the work.
The unit can clear bridge parapets of up to 4.4m height, and walkways of up to 4.4m width. It maximum horizontal underbridge outeach is 19m and maximum vertical depth under the bridge is 9m. Platform capacity is up to 600kg and its width is 1.3m. The total GVW is 37 tons and when the platform is deployed in the working condition, the unit can move at up 12m/minute.
It is fitted with a manually-operated vertical lift, which is made of alluminium, and is capable of raising one operator (up to 120kg) by up to 2.5m above the main platform. This allows the operator to inspect bridge slabs or soffits. Another major export by Barin has been the sale of a new big underbridge inspection unit model ABC 200/L to Russian public company ZAO Uralmostotroj, which is based in Perm. The company has chosen Barin for its bridge maintenance and inspection work on the Kama Bridge. Uralmostotroj decided to buy a platform-type inspection machine because its need to carry out full and safe inspection and maintenance work on the bridge.
The unit was manufactured in Italy and assembled on to a Volvo FM400 6x4 truck chassis manufactured in Sweden.
Wheather it is in the working or transport position, the ABC 200/L only occupies a single road lane - allowing traffic to flow during inspection or maintenance work. Its main technical strengths are ability to clear bridge parapets up to 2.1m high, and walkways up to 2.7m wide. The maximum horizontal underbridge reach is 20m, and maximum vertical depth under the bridge is 8.5m.
The platform has a maximum capacity of 500kg, its width is 1.1m and the total GVW of the unit is 26 tons. In its working position, the maximum translation speed of the unit is 12m/min.
It has a manually-operated vertical lift made of alluminium on the platform, which enables a single operator up to 120kg to be raised by up to 3m height. This allows the inspection of the bridge soffit, or means that operators can access between the bridge girders.